Seeing Gordon Ramsay, one of the big guns of the culinary world, was definitely the greatest highlight of
Good Food & Wine Show Cape Town 2013
which took place at the
Cape Town International Convention Centre
last weekend 23 – 26 May. I'd been watching him on
The F Word
,
Hell's Kitchen
and
Kitchen Nightmares
but seeing him in person at the Checkers Celebrity Chef's Theatre was something else entirely – a wonderful experience!
And I got to see him up close, despite the fact that I didn't have a R900 VIP ticket which included a meet-and-greet with the great man. Ramsay, always a bit contrary, defied the directions to pay special attention to the VIPs and crossed the red rope separating them from the rest of the audience to come talk to the "ordinary people". For R250 I had a seat in the second row behind the VIPs and I could hardly believe it when Ramsay made his way over to where I was sitting. He spoke to the couple in front of us and invited them to join him at the chef's table next to the stage.
Ramsay cooked a rib-eye-steak, made with a coffee, chilli flakes, smoked salt & cayenne pepper dry rub, served with a chimichurri, creamed spinach and boiled potatoes. He also made squid and crayfish on a vinaigrette of fresh citrus fruits and a caramelised apple and pear tarte tatin with vanilla and aniseed. Yum!
I also saw A Foodie Lives Here blogger Sarah Graham, author the cookbook Bitten and star of the TV-show by the same name, at the Good Food & Wine Show. She was cooking at the Sea Harvest stall. A talk with some of the vendors at the stall confirmed for me that Saldanha on the West Coast is now really the capital for seafood products. This is something I like to hear, seeing as my parents live there and I regularly visit them!
Saldanha was the origin of another highlight of the day – a giant oyster from C-side Oysters. Not only did they sell large oysters at their stall, but also jumbo and giant ones! Of course I went for the biggest one! They confirmed that Saldanha is becoming the new hub for oysters – great news.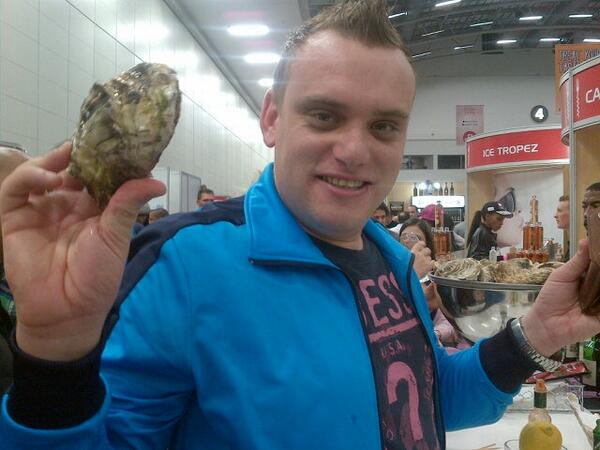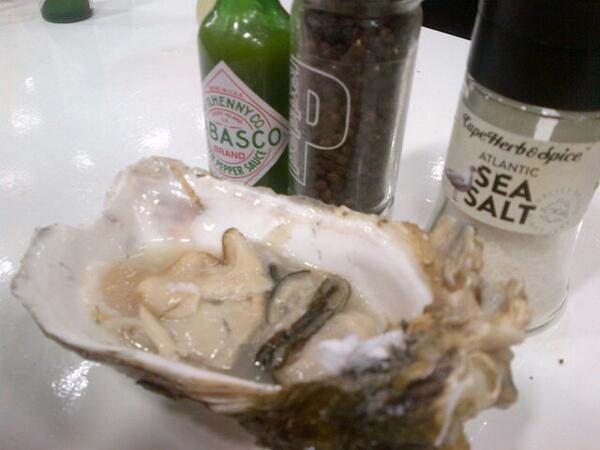 Other highlights included Falk Salt (whose smoked salt Ramsay used in his steak rub), Sweet Temptations Toffees (I took home a whole bag of treats from them), macaroons from Daniela's Deliciously Decadent, Cape Seafood Wholesalers (who I'll definitely contact in future), Finest Sausage, the Cork Pops opener that amazingly opens wine bottles with gas pressure and of course the wine tasting from a wide variety of fine wineries!